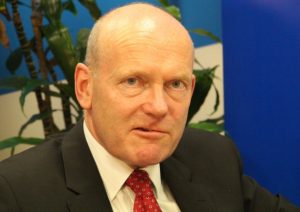 Mayor John Biggs
Tower Hamlets' Mayor John Biggs has hit back at Downing Street defiance that the scandal engulfing minister Robert Jenrick is "closed".
Mr Biggs said it is "anything but over".
And, he added that the Newark MP had "blown apart confidence in our planning system".
Housing Minister Mr Jenrick is caught up in a farrago surrounding the Westferry property development in London, backed by billionaire Richard Desmond.
Mr Jenrick is accused of granting planning permission against the advice of others.
The approval meant Mr Desmond saved £50 million on a new levy to be introduced by the Tower Hamlets council.
Mr Desmond, former owner of the Daily Express, later donated £12,000 to the Conservative Party.
Mr Biggs warned that the scandal was not yet over.
He said: "The Prime Minister may consider the Westferry scandal to be a 'closed matter', but I can assure him it is anything but."
"Mr Jenrick's performance in Parliament was less than impressive and he left many questions unanswered.
"He was however forced to finally release documents relating to his decision.
"The documents are astonishing, damning and I would argue have blown apart confidence in our planning system under Mr Jenrick."
However, Home Secretary Priti Patel said the matter was "closed".
She told the Andrew Marr BBC programme:
"I haven't followed the details of every single decision on this but what I do know, and what I can tell you, is that the correspondence, the documentation is out in the public domain on this particular application – and rightly so.
"It is a significant decision, a significant application.
"The papers have been published; the secretary of state has followed all issues around transparency.
"It has been discussed in Parliament a number of times, questions have been answered on this and the matter is deemed to be closed.
"It is through that matter of transparency that the matter is now deemed to be closed."