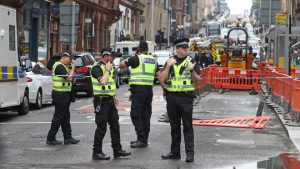 Picture PA
A suspected killer has been shot dead by the police during a knife attack in Glasgow.
A police officer and six other people are in hospital with stabbing injuries.
The attack took place in the Park Inn Hotel in West George Street.
Armed police stormed the building.
The hotel is being used as a refugee centre.
One witness named only as John was staying in the hotel.
Speaking to LBC News, he said:
"I was sleeping, and I heard noises and screaming for help.
"But I couldn't see from my window what was going on.
"I got worried and I came down, but I couldn't take the lift.
"When I got into the reception room there was blood everywhere.
"Then I saw someone behind the reception desk had been stabbed and then someone else.
"I immediately called my mum and told her not to come down."
David Hamilton, of the Scottish Police Federation, said the circumstances police have had to deal with are "pretty horrific".
Speaking to Sky News on the scene Mr Hamilton said:
"It's quite clear that the circumstances they were met with were really pretty horrific.
"With what they had to deal with the actions they took were exceptionally brave.
"We don't determine people in terms of their circumstances, we just have to help people in general and we will always do that.
"And that's what these officers have done today.
"They have gone to help the public and circumstances have unfolded as they have."
Nicola Sturgeon, Scotland's First Minister released a statement on Twitter.
She said: "My thoughts are with all those who have been injured in the incident in Glasgow today.
"My sincere thanks go to our emergency services.
"The injury of a @policescotland officer is a reminder of the great bravery our police officers show every day as they work to keep us safe.
"Please follow @policescotland for official updates.
"Some of the information that has been circulating is unconfirmed/inaccurate – and the situation is serious enough without that.
"And let's all keep the injured and their families uppermost in our thoughts."
Police Scotland Assistant Chief Constable Steve Johnson said:
"The individual who was shot by armed police has died.
"Six other people are in hospital for treatment to their injuries including a police officer, who is in a critical but stable condition.
"We are continuing to deal with the incident on West George Street Glasgow and would ask people to avoid the area.
"We would urge the public not to speculate about this incident or share unconfirmed information on social media."