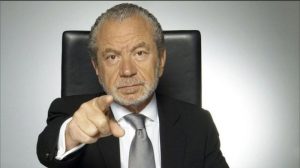 The Apprentice has been dropped for its next run as Covid-19 has stopped filming.
The show – in its 16th year – was due to be broadcast in September.
But the coronavirus pandemic has made filming impossible.
A BBC spokesperson said:
"Sadly, we have decided to postpone The Apprentice for 2020.
"Production safety and the wellbeing of everyone involved in the show is our number one priority."
The Apprentice follows a group of young entrepreneurs as they try to fulfil a series of challenges set by Lord Alan Sugar.
When someone fails, they are unceremoniously dumped by Lord Sugar with the withering comment "you're fired".
Other popular shows due to return are also hanging in the balance.
The BBC's Strictly Coming Dancing has posed major problems for the show's producers.
And I'm A Celebrity… is in jeopardy as Australia plans to keep its international borders closed until early 2021.