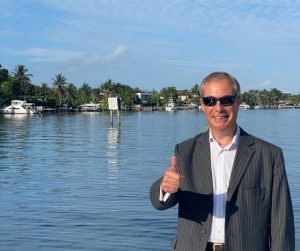 Credit Nigel Farage Twitter
A US investigation has begun after Brexit Party leader Nigel Farage was allowed to visit America for a Donald Trump rally.
Mr Farage was exempted from strict coronavirus lockdown rules to go the States.
It's said he was allowed permission under a "national interest" clause.
Mr Farage was pictured at the President's campaign event in Tulsa, Oklahoma.
Now, a US congressman has launched an inquiry.
He said giving Mr Farage permission raised "troubling questions".
Mr Bennie G Thompson, chairman of the House of Representatives' committee on homeland security, said:
"The decision of the Trump administration to admit Mr Farage to the United States to enable him to attend a campaign rally at a time when most travel from the United Kingdom to the US has been suspended raises numerous troubling questions, as does the claim that such travel was in the national interest."
Mr Farage was initially stopped from boarding the flight from the UK to America because of the restrictions.
But, after a review, that decision was overturned by the Department of Homeland Security (DHS).
It was decided Mr Farage's travel was "permissible" as his entry to the US "would be in the national interest".
Mr Thompson has asked the DHS for "all communication" related to Mr Farage's trip.
He's also requested details on "the individual who ultimately approved travel to the US by Mr Farage" and "the determination and justification" that the trip "was a matter of national interest".