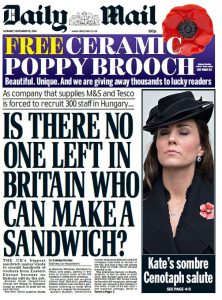 After 42 years as Britain's best-selling newspaper the Sun has been overtaken by the Daily Mail.
Latest industry figures show the Mail sold on average 980,000 copies a day in May.
The Mail on Sunday sold 878,000 a week.
Last month the Sun, Sun on Sunday and the Times – all part of the News UK group – stopped making its sales figures public knowledge.
However, the numbers are still available within the industry.
The Guardian reports the News UK titles were lower than the Mail titles for May.
The Daily Mail was launched 124 years ago.
It's the first time it has been the nation's biggest seller.
Daily Mail editor Geordie Greig said:
"I am immensely proud and delighted that the Daily Mail has become Britain's biggest-selling newspaper, an historic moment in our history."
When it launched in 1964 the Sun was the fourth biggest selling newspaper.
At the time, newspapers like the Mirror – Britain's biggest national – were selling up to five million copies a day.
The Sun overtook the Mirror in 1977 – a position it held until this week.