Cecil Rhodes statue to go from Oxford college after protests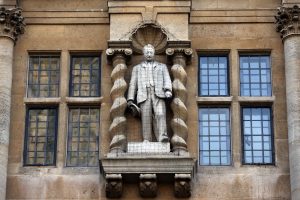 The statue of Cecil Rhodes is to be removed from Oxford's Oriel College.
The decision comes after a five-year campaign over his connections to Britain's colonial past.
The College said:
"The Governing Body of Oriel College has today voted to launch an independent Commission of Inquiry into the key issues surrounding the Rhodes statue.
"They also expressed their wish to remove the statue of Cecil Rhodes and the King Edward Street Plaque.
"This is what they intend to convey to the Independent Commission of Inquiry.
"Both of these decisions were reached after a thoughtful period of debate and reflection, and with the full awareness of the impact these decisions are likely to have in Britain and around the world."
Rhodes was a student Oriel College.
He left Oriel a considerable legacy in his will.
And, he endowed the Rhodes Scholarship which has enabled more than 8,000 foreign students to study at Oxford.
Former American President Bill Clinton was a Rhodes Scholar.
Rhodes was a central figure in and around South Africa in the late 1880s.
His name was given to Rhodesia – now Zimbabwe.
Rhodes also found the De Beers diamond empire.