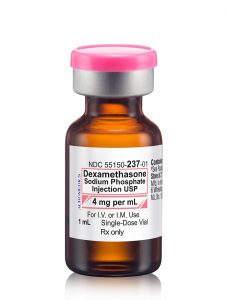 A common off-the-shelf drug can help combat Covid-19, say scientists.
Dexamethasone – a steroid used to treat inflammation – is seen as a breakthrough in tackling the virus.
Severely ill patients who received the drugs were more likely to survive than those who didn't.
The findings are yet to be peer reviewed or officially published in a medical journal.
The Prime Minister Boris Johnson said:
"This drug, dexamethasone, can now be made available across the NHS.
And we've taken steps to ensure we have enough supplies even in the event of a second peak.
"There is genuine cause to celebrate a remarkable British scientific achievement."
University of Oxford scientists report the steroid "reduced deaths by one-third in ventilated patients" and "by one-fifth in other patients receiving oxygen only".
It added: "Based on these results, 1 death would be prevented by treatment of around 8 ventilated patients or around 25 patients requiring oxygen alone."
However, the drug did not have any benefit in patients who did not need respiratory support.
Sir Patrick Vallance, Britain's Chief Scientific Adviser called the study's results "tremendous".
He added:  "It is particularly exciting as this is an inexpensive widely available medicine.
"This is a ground-breaking development in our fight against the disease, and the speed at which researchers have progressed finding an effective treatment is truly remarkable," Vallance said.
"It shows the importance of doing high quality clinical trials and basing decisions on the results of those trials."