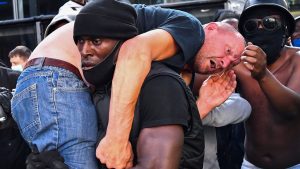 Image: Reuters
A Black Lives Matter campaigner stepped in to save an injured white man during violent protests in London.
Personal trainer Patrick Hutchinson scooped up the man and gave him a fireman's lift to safety.
Mr Hutchinson said he and four friends saw the lone man surrounded by young black men.
He said they acted quickly to stop him being trampled.
As Mr Hutchinson picked him up his friends formed a barrier around the rescue.
The white man was left with the police.
Mr Hutchinson told the BBC:
"I scooped him up into a fireman's carry and marched him out with the guys around me, protecting me and shielding me and protecting this guy from getting any further punishment.
"I wasn't thinking, I was just thinking of a human being on the floor.
"It wasn't going to end well had we not intervened.
"We did what we had to do.
"We stopped somebody from being killed."
After the rescue the white man did not say a word and the group has not seen him since.
Mr Hutchinson and his friends had gone to the London to try to prevent young BLM protesters being caught up in the trouble.
Mr Hutchinson, a martial arts expert, later told Channel 4:
"At the moment the scales are unfairly balanced and I just want things to be fair, for my children and my grandchildren."