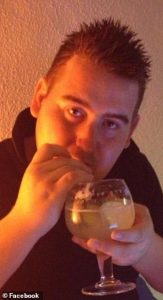 Credit: Facebook
Andrew Banks has been jailed for 14-days for urinating next to a memorial dedicated to a policeman killed in a terrorist attack.
Banks, 28, of Manor Road, Stanstead, Essex, admitted the charge of outraging public decency.
He was caught on camera during violent clashes between far-right protesters and the police.
Banks, 28, a Tottenham Hotspur supporter, appeared at Westminster Magistrates'' Court today (Monday).
Prosecutor Michael Mallon said Banks, was in central London to "protect statues".
However, Banks admitted he did not know which statues.
He was said to have downed 16 pints during Friday night into Saturday morning, and had not slept.
Banks went to his local police station after being confronted by his father over the incident.
Stuart Harris, for the defendant, said his client was "ashamed by his action", and had mental health issues.
Banks' actions were utterly condemned by politicians, including Tobias Ellwood MP.
Mr Ellwood gave first aid to Pc Keith Palmer after he was mortally wounded by knifeman Khalid Masood on March 22nd, 2017.
The attack took place outside the House of Parliament.
The memorial to Pc Palmer is nearby.