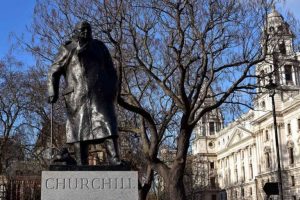 Boris Johnson has said Britain cannot "photoshop" its long and complicated cultural history.
He argues to do so would be a "distortion" of our past.
His comments come as the bitter row continues over the role of memorial and statues throughout Britain.
The Prime Minister said he would fight with "every breath in my body" any attempt to remove the statue of Winston Churchill from Parliament Square.
Mr Johnson – who authored a book on the wartime leader The Churchill Factor: How One Man Made History – added:
"He was one of the country's greatest ever leaders."
He said it was the "height of lunacy" to accuse Churchill of racism.
Writing in the Telegraph Mr Johnson said:
"I will resist with every breath in my body any attempt to remove that statue from Parliament Square, and the sooner his protective shielding comes off the better,"
"It is not just that it is wrong to destroy public property by violence. I am also extremely dubious about the growing campaign to edit or photoshop the entire cultural landscape.
"If we start purging the record and removing the images of all but those whose attitudes conform to our own, we are engaged in a great lie, a distortion of our history – like some public figure furtively trying to make themselves look better by editing their own Wikipedia entry."