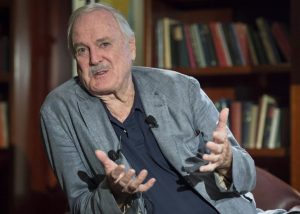 John Cleese has criticised the BBC for removing an episode of Fawlty Towers.
Cleese called the decision to drop the famous "don't mention the war" German programme as "stupid".
In fact, the racist slurs come from Major Gowen who uses the "N" word.
Cleese told the Sydney Morning Herald:
"One of the things I've learned in the last 180 years is that people have very different senses of humour.
"Some of them understand that if you put nonsense words into the mouth of someone you want to make fun of you're not broadcasting their views, you're making fun of them.
The Major was an old fossil left over from decades before.
"We were not supporting his views; we were making fun of them.
"If they can't see that, if people are too stupid to see that, what can one say?
"Fawlty Towers has given a large number of people a great deal of happiness, why would you want to stop that.
"It reminds me of the definition of a Scottish Presbyterian as someone who has a nasty, sneaking feeling that someone, somewhere, is having a good time.
"A lot of the people in charge now at the BBC just want to hang onto their jobs.
"If a few people get excited they pacify them rather than standing their ground as they would have done 30 or 40 years ago."
Cleese, however, supported the BBC editing the slurs out of the episode back in 2013.
The version pulled from UKTV was an earlier unedited programme.
The BBC said: "We are very proud of Fawlty Towers and its contribution to British television comedy.
"But public attitudes have changed significantly since it was made and it was decided to make some minor changes, with the consent of John Cleese's management, to allow the episode to transmit to a family audience."