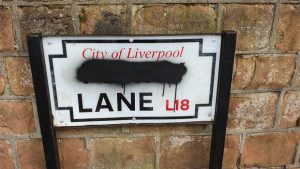 The Beatles "Penny Lane" road signs have been defaced following claims they're named after a slave trader.
The word Penny has been blacked out and "racist" scrawled above the sign.
It's said the Liverpool street name is linked to the 18th Century trader James Penny.
Penny was a vociferous opponent of the movement to abolish slave trading.
Liverpool's International Slavery Museum said "more research is needed" to clarify the name's origin.
However, city tour guide Jackie Spencer, said she was "absolutely livid" at the vandalism
She said: "It's pure ignorance.
"We've researched it and it has nothing to do with slavery.
"James Penny was a slave trader, but he had nothing to do with the Penny Lane area."
The city's mayor, Joe Anderson, said he was "frustrated" by the "defacement of our street signs".
"[It] does nothing to further advance the argument and the debate around Black Lives Matter here in Liverpool.
"It isn't just about the artefacts and street names, it's also about how we change the fundamental things that are causing disadvantage and inequality within our city."
Penny Lane was recorded by The Beatles in 1967 and released as a double A side.
It was written by Paul McCartney – but like all Beatles' song was credited as Lennon-McCartney.
The flip side of the single was "Strawberry Fields" – written by Lennon.
It reached number two in the charts.