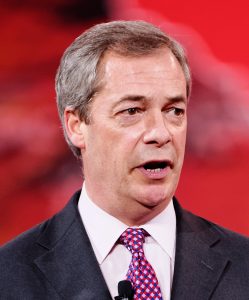 Nigel Farage is to step down as a presenter with radio station LBC.
His Nigel Farage Show was broadcast five days a week.
The Brexit Party leader took calls from the public as part of the current affairs programme.
However, his often-controversial style has not only angered listeners but staff at LBC and its parent company Global Radio.
In a tersely worded state on Twitter LBC said:
"Nigel Farage's contract with LBC is up very shortly and, following discussions with him, Nigel is stepping down from LBC with immediate effect.
"We thank Nigel for the enormous contribution he has made to LBC and wish him well."
It's reported the "final straw" for the broadcaster came after Mr Farage, 56, compared the Black Lives Matter movement to the Taliban.
One employee said there had been long-standing unhappiness over Mr Farage being employed.
But the Taliban comment was "the final straw".
After the statue of 17th Century slave trader Edward Colston was toppled in Bristol, Mr Farage tweeted:
"A new form of the Taliban was born in the UK today.
"Unless we get moral leadership quickly our cities won't be worth living in."
And two days later on ITV's Good Morning Britain show he said:
"The slogan Black Lives Matter and wanting to end injustice and inequality is a laudable aim.
"The organisation Black Lives Matter is a Far Left Marxist organisation whose chief aim is to defund and close down police forces so that we would live under anarchy."
However, The Telegraph reports a friend of Mr Farage who said :
"He [Farage] is the third-highest paid presenter on the station because he attracts such big audiences and advertising revenue, so this is not about him being surplus to requirements.
"I think we all know what this is about.
"There are people who want to take him down just because they disagree with him."