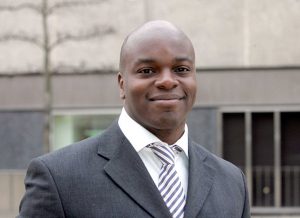 Shaun Bailey
A Conservative Party plot to dump London mayoral candidate Shaun Bailey and replace him with a former cabinet minister has been dismissed as "complete rubbish".
It was said Mr Bailey had lost the support of party officials and donors.
Some wanted him replaced by the ex-chancellor Sajid Javid.
The Standard reported that Mr Javid had sent a text to Mr Bailey offering him support.
It added the claims were "complete rubbish".
Mr Bailey, a former youth worker, was a special adviser to Prime Minister David Cameron.
He was picked to take on Labour's Sadiq Khan two years ago.
Business Minister Nadhim Zahawi also moved to dispel the rumour.
He said: "Rubbish story.
"Sajid Javid is staying in Parliament and Sajid has a great contribution to make to Parliament and Shaun Bailey is our phenomenal candidate, a phenomenal campaigner and someone who understands that black lives really do matter.
"And is actually focusing on what is material which is equality of opportunity for all Londoners – that is what Shaun stands for."
A campaign source told the Standard:
"It's no secret that Shaun is not your typical Tory candidate and that a very small number of people around the party would have preferred someone more traditional.
"But nobody in the Conservative Party is stupid enough to try to drop Shaun just when he has been landing blows on Sadiq Khan over his failures over TfL and public safety, and when our capital has an opportunity to elect its first black Mayor at a time when bringing people together has never been more important."