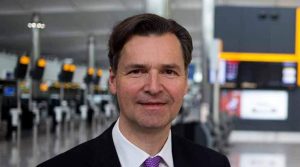 More than 25,000 Heathrow jobs are at risk as the Government pursues its new 14-day quarantine period.
The warning comes as the airport reports a 97% drop in passenger numbers for May.
And those figures received a "boost" from an increase in the number of cargo-only planes using the airport.
John Holland-Kaye, Heathrow CEO,  called on the Government to establish "air bridges" to low risk countries.
He said: "Throughout this crisis, we have tried to protect frontline jobs, but this is no longer sustainable, and we have now agreed a voluntary severance scheme with our union partners.
"While we cannot rule out further job reductions, we will continue to explore options to minimise the number of job losses."