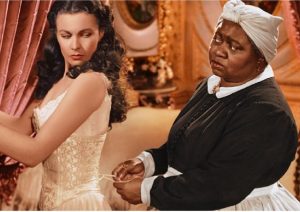 Hattie McDaniel
The classic film "Gone With The Wind" has been removed from the HBO Max playlist.
Its exclusion comes in the wake of protests over the death of George Floyd.
The multi-Oscar winning film is set on a plantation in Georgia during the American Civil War.
Recently, the film has been accused of perpetuating racial stereotypes and glorifying the federalist slave owning South.
An HBO spokesperson said:
"The film is a product of its time and depicts some of the ethnic and racial prejudices that have, unfortunately, been commonplace in American society.
"These racist depictions were wrong then and are wrong today.
"We felt that to keep this title up without an explanation and a denouncement of those depictions would be irresponsible.
"These depictions are certainly counter to WarnerMedia's values.
"When we return the film to HBO Max, it will return with a discussion of its historical context and a denouncement of those very depictions.
"However, it will be presented as it was originally created, because to do otherwise would be the same as claiming these prejudices never existed.
"If we are to create a more just, equitable and inclusive future, we must first acknowledge and understand our history."
The 1939 film starred Vivienne Leigh, Clark Gable, Hattie McDaniel and Olivia de Havilland.
McDaniel was the first African American to win an Oscar for her best supporting role as "Mammy".
Her parents were former slaves.
The film took eight Oscars.
It is the highest-grossing film ever made – allowing for inflation, its $390 million box office receipts are now a staggering $7 billion.