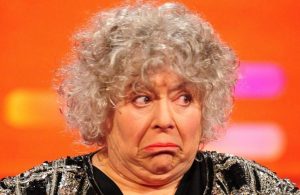 Television regulator Ofcom is to take no action after actress Miriam Margolyes said she wanted Boris Johnson "to die".
Ms Margolyes made the comment during the live Channel Four comedy show The Last Leg.
More than 500 people complained to the watchdog.
However, in today's ruling Ofcom concluded there was sufficient context to justify the possible offence.
Ms Margolyes, 78, was asked by show presenter Adam Hills what she thought about the Government's handling of the Covid-19 pandemic.
At the time the Prime Minister was seriously ill in an intensive care unit suffering from coronavirus.
She replied: "Appallingly of course, appallingly.
"It's a disgrace, it's a scandal, it's a public scandal.
"I mean I had difficulty not wanting Boris Johnson to die, I wanted him to die, and then I thought that reflects badly on me and I don't want to be the sort of person who wants people to die.
"So, then I wanted him to get better, which he did do, he did get better, but he didn't get better as a human being and I really would prefer that."
Her forthright answer shocked Hills and fellow stars Josh Widdecombe and Alex Brooker.
Later Channel 4 said: "The programme is live and unexpected comments can happen.
"In this instance Miriam went on to say that she wanted him to get better."
Ofcom said: "We considered that these comments had the potential to cause offence, because Miriam Margolyes sought to derive humour from Boris Johnson's experience of a serious and potentially fatal health condition, which had required him to be hospitalised and treated in intensive care.
"In our view, the level of offence was likely to have been exacerbated because Miriam Margolyes' comments were made at a particularly sensitive time, given the seriousness of the current health crisis.
"However, we considered that most viewers would have seen this as Miriam Margolyes expressing, in comedic terms, disagreement with Boris Johnson at a political level, which viewers would have seen as being legitimate for her to have done, in keeping with the format and tone of The Last Leg."
Cambridge educated Ms Margolyes plays Professor Sprout in the Harry Potter films.
She has also won a BAFTA her role in Martin Scorsese's The Age of Innocence.
She is renowned for her frank opinions.