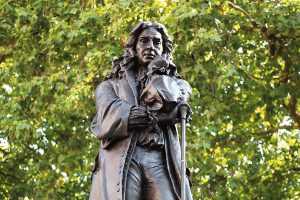 A statue to a slave trader has been pulled down by "Black Lives Matter" protesters.
The bronze memorial to 17th century trader Edward Colston was ripped from its plinth and dumped in the quayside in Bristol.
The statue has stood since 1895, but in recent years it has polarised arguments about its place in a modern world.
Protestor John McAllister, 71, said:
"It says 'erected by the citizens of Bristol, as a memorial to one of the most virtuous and wise sons of this city'.
"The man was a slave trader.
"He was generous to Bristol, but it was off the back of slavery and it's absolutely despicable.
"It's an insult to the people of Bristol."
Colston worked with the Royal African Company (RAC), a slave trading firm.
It is thought RAC transported more than 84,000 African men, women and children during the time Colston was involved.
Nearly 20,000 men, women and children died on the journey to the Caribbean and the Americas.
The moment that the statue of Edward Colston was pulled down pic.twitter.com/oRpAg9HLqI

— Epigram (@EpigramPaper) June 7, 2020