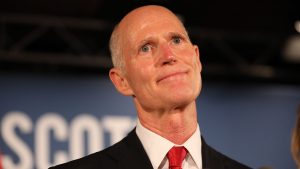 The rift between America and China has significantly widened after a US senator accused Beijing of trying to thwart efforts to discover a Covid-19 vaccine.
Republican Rick Scott did not hold back as he revealed the Chinese were trying to "sabotage" Western scientists' work.
He claimed the information came from the US "intelligence community".
Sen. Scott told the BBC's Andrew Marr Show:
"We have evidence that what China is trying to do is sabotage or slow down our ability to get this vaccine done.
"China does not want us, and England and Europe to do it first.
"They've decided to be an adversary to America and democracies around the world."
When asked for further details of the alleged attempts, Sen Scott said he was bound by "armed forces" regulations.
China recently published a new document about its response to the coronavirus pandemic.
Beijing says it briefed the US as early as January 4 on the outbreak.