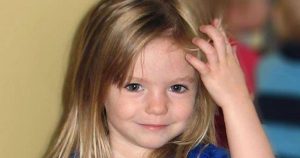 The prime suspect in the disappearance of Madeleine McCann has been named as Christian Brueckner.
The name has come from sources in Portugal, according to The Telegraph.
Scotland Yard said a 43-year-old German is suspected of being involved in the case.
The development is the biggest breakthrough in the 13 years since the abduction.
The man is currently in jail in Germany for raping a 72-year-old woman in Portugal last year.
Police know he was in Praia da Luz on the day of three-year-old Madeleine's disappearance.
And, it's known he received a telephone call in the area an hour before she was taken from her bed.
Officers said the unnamed man lived in Portugal between 1995 and 2007.
They released pictures of two vehicles belonging to the suspect.
Senior police officers described the line of inquiry as "significant".
They appealed for information for the whereabouts of the German at the time Madeleine went missing in May 2007.
Kate and Gerry McCann said in a statement:
"All we have ever wanted is to find her, uncover the truth and bring those responsible to justice.
We will never give up hope of finding Madeleine alive but whatever the outcome may be, we need to know, as we need to find peace."
Scotland Yard has been working with police colleagues in Germany and Portugal over the abduction.
In a coordinated appeal for information, broadcast on German television, authorities there said the man was suspected of Madeleine's murder.
He was described as a "multiple" child sex offender serving a lengthy jail term.
During his time in the Algarve, he did odd jobs but is also thought to be implicated in hotel and holiday home burglaries and drug dealing.
Detective Chief Inspector Mark Cranwell outlined the inquiry in a Scotland Yard video posted to YouTube:
Credit: Scotland Yard