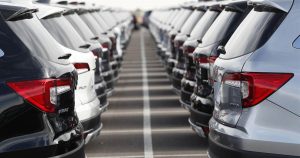 Fewer than 20,000 new cars were sold last month (May) – a drop of 90% than the same time a year ago.
The Covid-19 pandemic has shut showrooms across the UK.
But dealers reopened on Monday, and it's hoped limited deliveries of new vehicles will soon start.
The Society of Motor Manufacturers and Traders (SMMT) recorded fewer than 20,000 new cars registered in May.
In 2019 the figure was 180,000.
The SMMT forecasts that around 1.68 million new cars will be registered in 2020 – a 27% decline on last year.
Ian Plummer, commercial director at Auto Trader, said:
"There is a lot of pent up demand from car buyers, creating a huge opportunity for the industry to help kick-start the country's wider economy."