Stones' drummer Charlie Watts and wife home rescue greyhound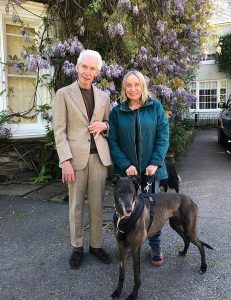 Credit: Forever Hounds Trust
Rolling Stones' drummer Charlie Watts and his wife have taken in a rescue greyhound.
The rocker and Shirley found the dog Suzie through the Forever Hounds Trust.
Jan Lake, from the trust, said:
"It's a really difficult time for everyone at the moment, and that includes animal rescue charities as well.
"There are still so many dogs that need our help but due to the extra precautions we have to take due to the coronavirus pandemic rescuing, rehabilitating and re-homing a dog is a much lengthier process than it has been previously.
"We are still able to home dogs, but we can only do it in certain circumstances.
"Luckily, Shirley and Charlie are well-known to the charity and we were able to find the right dog for their family."
Shirley is a long-time supporter of the charity.
Jan added: "It's so important that we keep working to rescue dogs throughout this period as there is no let-up in the number needing our help and as soon as we find a home for one there is another needing the space in our kennels and foster homes."