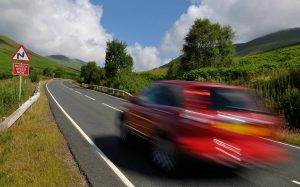 Drivers are clocking more than double the 70-mph limit as empty lockdown roads encourage speeding.
Two thirds of Britain's police forces caught people driving in excess of 100 mph.
The fastest was 151 mph on the M62 in West Yorkshire.
The next quickest was 140 mph on the A14 in Suffolk.
Five more drivers were clocked doing more than 130 mph – one doing 134 mph in a 40 mph limit.
The police figures were obtained by the RAC under the Freedom of Information Act.
The motoring organisation asked all 30 forces for their speeding figures of more than 100 mph since lockdown started.
Twenty replied.
Simon Williams, RAC road safety spokesman, said the speeds as "truly shocking".
He warned drivers had "virtually no time to react should anything unexpected happen".
He added: "Some drivers have taken advantage of quieter roads to speed excessively, putting the lives of others at risk at the worst possible time.
"It's encouraging that so many police forces have taken firm action even during the lockdown, which sends a strong message to other would-be offenders."
There were 17,363 speeding offences recorded in Britain on roads with a 30mph limit.
Mr Williams added: "The figures for speeding offences on 30mph roads are particularly worrying as far more people have been walking and cycling due to the lockdown.
"As some schools and nurseries in England begin to open their doors from this week, there will be even more pedestrians on the roads, so we urge every driver to obey the speed limit and keep all road users safe."
Britain's roads have seen a drop of 66% in traffic since lockdown was introduced.
It's the quietest the country's roads have been since the 1950s.
The Top Twenty speeds – limits in brackets – between March 23 and April 13 were:
West Yorkshire Police: 151mph
Suffolk Constabulary: 140mph
Northamptonshire Police: 138mph
Gwent Police: 136mph
Staffordshire Police: 135mph
Metropolitan Police: 134mph (40mph)
Kent Police: 132mph
Humberside Police: 130mph
Police Scotland: 128mph
Lancashire Constabulary: 120mph
Merseyside Police: 115mph
North Wales Police: 111mph
Norfolk Constabulary: 110mph
Derbyshire Constabulary: 108mph (40mph)
15 South Wales Police: 108mph (50mph)
West Midlands Police: 108mph
Gloucestershire Constabulary: 106mph
Bedfordshire Constabulary: 104mph (40mph)
Devon & Cornwall Police: 101mph
Hampshire Constabulary: 101mph
Last week The London Globe reported on a motorist who posted a video of himself driving at 200 mph.
An Audi driver filmed himself hitting 200 mph down an empty "lockdown" motorway.
Police are now hunting the driver of the Audi RS6 going at almost three times the 70-mph limit.
At one point he is driving one-handed while filming on his mobile phone.
The one-minute footage was posted on social media.
The stretch of road is thought to be the M23 near Pease Pottage in Sussex.
Superintendent Andy Cox, of Sussex Police, said:
"We are aware of this horrific driving.
"I have tasked some investigative work to see if we can identify the car involved and the relevant location.
"If we do, we will seek the most robust action possible."
The Audi's engine is heard screaming towards the 200 mph
The speedometer shoots from 61mph to 116mph in just five seconds before climbing towards the 201mph mark.
The engine is heard screaming in the background as the car reaches its limits.
It is thought the £92,000 440-horsepower Audi has been "tweaked" to reach top speed.
Britain fastest speeding ticket was for a Nissan GT-R driver doing 192 mph.
He was jailed for 28 months and banned from driving for 10 years.