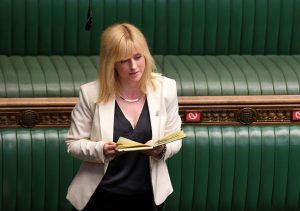 Former Labour whip Rosie Duffield, who broke lockdown rules to meet her married lover, has called herself "hypocritical".
Ms Duffield, 48, MP for Canterbury, also said she was "ashamed".
She told her local newspaper, the Kentish Gazette, "I am so, so sorry".
Ms Duffield added:
"I have been telling you to stay home and stay safe, particularly with regards to social distancing and this remains extremely important.
"But whilst I was completely isolated from family and friends for many weeks, I did see my partner towards the end of the most crucial lockdown period.
"This was wrong. I was hypocritical. I am so, so sorry.
"Relationship breakdowns are always difficult and I won't go into further details about my personal circumstances or why my partner and I broke lockdown, as there are other people involved and they are individuals who deserve their privacy.
"People never make choices such as these lightly, but I do understand that as an elected person holding public office, I have to be held to the highest standards.
"It is not unreasonable to have expected better of me."
Ms Duffield, defied coronavirus restrictions to meet television director James Routh.
The couple had gone on a five-mile walk and later met at Ms Duffield's home.
Mr Routh, 45, has since separated from his wife with whom he shares three children.
Ms Duffield resigned as a Labour whip only weeks after being given the job by party leader Sir Keir Starmer.