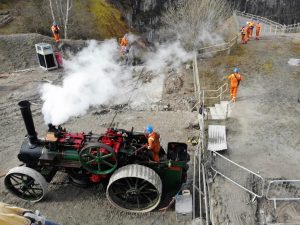 A steam engine more than a hundred years old has been brought back into action to help clear a quarry.
A demolition company used the 1918 J&H McLaren to winch a decommissioned conveyor belt from the depths of the site.
The engine – called Avis – was employed because modern machinery couldn't do the job.
Richard Dolman, MD of AR Demolition, said:
"We looked into winch hire, but it was prohibitively expensive.
"And because of the nature of the site, there was insufficient space to drag the pieces up the ramp from the bottom of the quarry using a long rope and demolition rig.
"Then it just occurred to me that Avis would be the perfect solution.
"It was a great opportunity for us to see what she could do and, as it turned out, she made it look easy."
Avis is owned by steam engine enthusiast Robert Holt, from Hinckley in Leicestershire.
His son Robert operated Avis during the winch at nearby Croft Quarry.