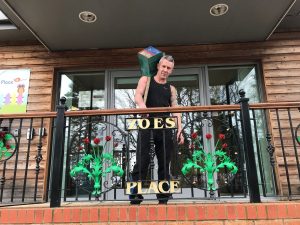 Building boss Nigel Howell – aka "The Hodfather" – has run a marathon while carrying a hod of bricks.
Nigel, 48, ran 70 laps around the streets near his home with an added four-stone of bricks.
It took the dad of three eight hours and six minutes to complete the distance – making him the first person to do with a hod, and setting a world record.
He said: "I've done some crazy things with the hod, but this was certainly the hardest one-day event I've ever done."
Nigel, from Coventry in the West Midlands, collected donations of £1,600 for "Zoe's Place", a baby hospice.
He's already raised £13,000 to help the unit near his home.
Nigel added: "I'm lucky enough to have healthy children and I think what the charity do are amazing".
A hod is a three-sided box with a long pole used to carry bricks and mortar.
It is slung over the shoulder.