Lockdown rules are "unenforceable" warns police leader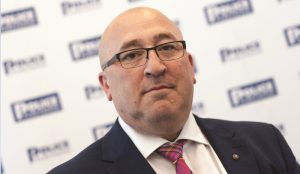 Ken Marsh
Some police leaders believe Britain's lockdown rules have become "unenforceable".
As a sunny weekend attracted people millions of people outside, the Metropolitan Police Federation (MPF) warned "the public will do what they want to do".
Ken Marsh, MPF chair, said:
"I don't think the public are taking much notice of what is laid down in front of them.
"They are doing it how they want to do it.
"In terms of it being enforceable, I don't think it is."
Mr Marsh said the Government's rules had been "widely abused" over the weekend.
He added: "It's been very, very busy.
"We have had a lot of gatherings of people not adhering to the rules.
"What are the rules?
"This is what I keep saying.
"I don't think they are very clear.
"I think they are ambiguous.
"Any interpretation can be used on them.
"People will do what they want to do.
"The youth are not bothered because they think coronavirus won't affect them."
From today in England six people can meet outdoors, private BBQs and garden parties are allowed, and people can take unlimited travel to exercise.
New Government guidelines are expected to tell the police to continue to engage, explain and encourage the public.
Only as a "last resort" will enforcement be deployed to limit large gatherings.