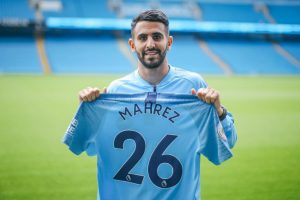 Thieves have stolen watches worth more than £450,000 from the home of Manchester City striker Riyad Mahrez.
The player had three time pieces taken in the raid – including a Richard Mille worth £230,000.
The other two watches were made by Rolex.
Also, more than £50,000 in cash was taken.
The Algerian player thought he was being watched by burglars and the robbery was carried out to order.
It's said a letter was sent to residents of the building explaining four apartments were
"accessed without authority using a fob which had general access throughout the building".
A Greater Manchester Police spokeswoman said:
"At around 5pm on Friday April 24, police were called to reports that four separate apartments had been burgled at a city centre block."
Earlier this month Spurs' striker Dele Alli was robbed at knifepoint when burglars broke into his home.
He too had a Richard Mille watch taken.
Security expert Alex Bomberg said players must be particularly careful to control what they post online.
He told The Telegraph: "The intelligence is there on social media.
"The criminals can look and say: 'Oh look, there's the £50,000 watch, there's the jewellery collection, there's the £1,000 pair of sunglasses.'
"They become a target because they become a challenge.
"People will look at a footballer posting all of this stuff and they then become a challenge to the criminal community."