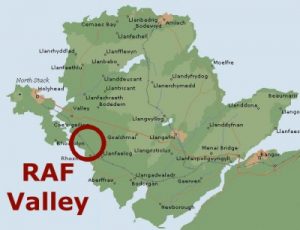 A civilian pilot flew to an RAF base in North Wales so he could "go to the beach".
The man flew 290 miles from Surrey to RAF Valley on the island of Anglesey.
His landing sparked an emergency response from Ministry of Defence guards and fire crews.
The base was closed for maintenance and personnel thought the single engine turbo-prop PC-12 plane was making an emergency landing.
Instead, the pilot taxied the plane to the far end of the runway near to the beach.
When confronted, he told MoD staff he wanted "to go to the beach".
After security checks the pilot – as yet unnamed – decided to fly back home.
An RAF spokesman said:
"The RAF can confirm that a civilian PC-12 aircraft landed on a closed runway at RAF Valley without permission.
"Whilst irregular, it was assessed that there was no threat to station personnel or the wider public.
"The incident has been reported to the Civil Aviation Authority."
Superintendent Richie Green, from North Wales Police, said:
"We were contacted by colleagues from RAF Valley at 1.04pm on Monday 25 May, reporting that a light aircraft had made an unauthorised landing at the airbase.
"The pilot was dealt with by military police.
"Whilst the incident is primarily being investigated by the RAF and Civil Aviation Authority, North Wales Police are currently considering potential breaches of the Covid legislation in Wales."
Prince William was posted to RAF Valley in 2010.
The base is home to the No 4 Flying Training School.