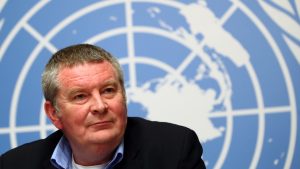 Dr Mike Ryan
A World Health Organization (WHO) chief has warned the globe is still in the midst of the first wave of the Covid-19 pandemic.
WHO Executive director Dr Mike Ryan said:
"Right now, we're not in the second wave.
"We're right in the middle of the first wave globally.
"We're still very much in a phase where the disease is actually on the way up."
He said regions first affected by coronavirus are still seeing the number of infections rise.
And he urged governments not to lift lockdown too early, despite the economic consequences.
Dr Ryan said:
"In these kind of circumstances, there may be no alternative.
"You must continue to do everything you can."