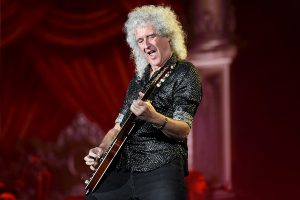 Rock legend Brian May suffered a heart attack after injuring himself while gardening.
The Queen guitarist said he was "in agony for about 40 minutes".
He said doctors found he had three blocked arteries.
The 72-year-old musician said the attack was discovered after he tore his buttock muscles in a "bizarre gardening accident".
The incident left him in agony.
He posted to Instagram:
"In the middle of the whole saga of the painful backside, I had a small heart attack.
"I say small, it's not something that did me any harm.
"It was about 40 minutes of pain in the chest and tightness.
"It's that feeling in the arms and sweating."
May said it turned out he had three arteries which were "congested and in danger of blocking the blood to my heart."
He said he faced open heart surgery but, after weighing up his options, he decided to have stents inserted.
He said when he came round after the operation it was as if "nothing had happened".
He added: "I couldn't feel they had been in here.
"I couldn't feel anything, and I still can't, it's been amazing."
May said he now a heart that is "very strong now".
He added: "I think I'm in good shape for some time now.
"I'm ready to rock."
https://www.instagram.com/p/CAmCpCjF26v/