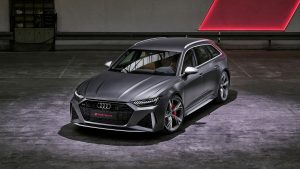 An Audi RS6
An Audi driver filmed himself hitting 200 mph down an empty "lockdown" motorway.
Police are now hunting the driver of the Audi RS6 going at almost three times the 70-mph limit.
At one point he is driving one-handed while filming on his mobile phone.
The one-minute footage was posted on social media.
The stretch of road is thought to be the M23 near Pease Pottage in Sussex.
Superintendent Andy Cox, of Sussex Police said:
"We are aware of this horrific driving.
I have tasked some investigative work to see if we can identify the car involved and the relevant location.
"If we do, we will seek the most robust action possible."
The Audi's engine is heard screaming towards the 200 mph mark.
The engine is heard screaming in the background as the car reaches its limits.
It is thought the £92,000 440-horsepower Audi has been "tweaked" to reach top speed.
Britain fastest speeding ticket was for a Nissan GT-R driver doing 192 mph.
He was jailed for 28 months and banned from driving for 10 years.