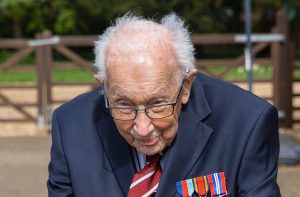 NHS fundraiser Captain Tom Moore is to be knighted.
The 100-year-old WWII veteran has raised more than £33 million for health service charities.
Captain Tom – recently promoted to an honorary Colonel – captured the nation's heart by walking 100 lengths of his garden.
Prime Minister Boris Johnson described Tom as a "national treasure".
He said his efforts "provided us all with a beacon of light through the fog of coronavirus".
Number 10 said Mr Johnson had recommended Sir Tom be exceptionally honoured by the Queen.
She approved the honour.
Mr Johnson said: "Colonel Tom's fantastic fundraising broke records, inspired the whole country and provided us all with a beacon of light through the fog of coronavirus.
"On behalf of everyone who has been moved by his incredible story, I want to say a huge thank you.
"He's a true national treasure."
A Government spokeswoman added:
"We know there is huge appetite to say thank you to all those supporting the nation during this emergency and doing incredible things day in, day out, up and down the country.
"We will ensure these unsung heroes are recognised in the right way, at the right time."
Captain Tom from Bedfordshire originally set out to raise a modest £1,000.
His determination escalated and since those first faltering steps he's had a number one charity single with Michael Ball.
A television documentary about his life has been broadcast.
And, there's a book soon to be published.