An extra UK Bank Holiday is on the cards to help tourism at home.
The tourist industry has warned of a £37 billion loss because of the Covid-19 pandemic.
Now the UK's Visit Britain has suggested an extra day be introduced in October.
Tourist industry leaders appeared before MPs to explain the huge losses as numbers of visitors – home and abroad – have dwindled to virtually nothing.
There are fears that when lockdown is eased or ended, people will still be reluctant to holiday.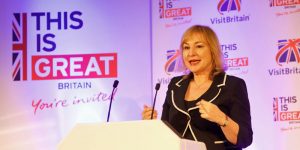 Patricia Yates
Patricia Yates, acting chief executive at Visit Britain, proposed an October bank holiday to extend the season.
She said the two May Bank Holidays were "lost" because they occurred during lockdown.
Ms Yates said £15 billion will be lost from tourists coming to the UK.
And another £22 billion will go from holiday-at-home tourism.
Ms Yates told the Digital, Culture, Media and Sport select committee there is a "a real job to be done there in convincing people that it's socially responsible to travel and enjoy a holiday, and that it's safe to do so".