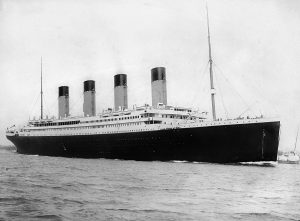 An iconic "hidden treasure" can be removed from the wreck of the Titanic, a court has ruled.
A judge has granted permission for a salvage firm the cut into the wreck and take a Marconi wireless known as the "voice of Titanic".
The ruling in America is a defeat for the UK and US Governments.
They argued the wreck was a mass grave and should be left in peace.
However, a US salvage firm – RMS Titanic Inc – said the liner is rapidly deteriorating and treasures could be lost for ever.
U.S. District Judge Rebecca Beach Smith gave RMST permission to "minimally to cut into the wreck".
She added the recovered Marconi wireless would "contribute to the legacy left by the indelible loss of the Titanic, those who survived, and those who gave their lives in the sinking."
Bretton Hunchak, president of RMST, said:
"The Marconi has such a great story to tell.
"It shouldn't be left at the bottom of the ocean, where only scientists can see it.
"Once the wireless has been brought up and conserved, we plan to use it as part of an educational outreach programme in schools. That's the magic sauce – the ability to use the Marconi to bring Titanic to a new generation."