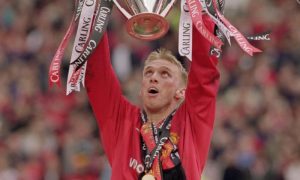 Gary Lineker has said sorry to a former Premier League footballer after making him the butt of a show's running joke.
Luke Chadwick, a Manchester United midfield player, revealed the taunts affected his mental health.
He said he "dreaded" the BBC sports quiz programme "They Think It's All Over" being broadcast.
Luke opened up about the constant torment at the start of Mental Awareness Week.
The 39-year-old started his career at United and played 25 Premier games over four years.
He won a Premier League winner's medal at Old Trafford.
However, he said constant ridicule negatively affected his self-esteem.
He said: "People knew who I was because I played for Manchester United and I always assumed they'd be saying horrible things.
"Being a quiet, nervous boy anyway, it sort of intensified that and maybe stunted my growth as a person."
Luke said the show "magnified" attention on him at a time when he was receiving abuse over his looks.
He said: "I became a picture of fun, and that was probably the hardest thing.
"A popular TV show – [the attention] was magnified, so that's what I was seen as by everyone off the back of that.
"I used to dread it coming on the telly.
"I wouldn't watch it but then I'd get a text off someone saying 'oh, you've been on that show again' as if it was a joke.
"Obviously, people were finding it funny, but it was eating away at me a bit inside while that was happening."
Really interesting to hear from Nick Hancock on #BBCBreakfast today. The host of 'They Think it's All Over' said he was full of admiration for former #MUFC player @Luke_FFF who talked to @BBCBreakfast about the impact of media comments about his lookspic.twitter.com/gXcJzcBUou

— Dan Walker (@mrdanwalker) May 18, 2020
Nick Hancock , the former host of "They Think It's All Over" admitted Chadwick had become a "running joke" on the show.
The comedian told BBC Breakfast he was "full of admiration for the present Luke Chadwick and full of sympathy for the young Luke Chadwick".
He said: "I'm appalled for him and at myself.
"Of course, the worst thing for Luke was that it became a bit of a running joke.
"We should have been thinking about the person, but that's what can happen.
"The terrible thing about comedians and comedy shows is that if you're getting laughs, you think you're doing a good job."
Lineker, the BBC's highest paid presenter, tweeted:
"I was part of that show, therefore, I too would like to apologise to Luke Chadwick for any hurt caused."