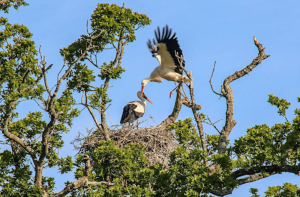 White storks have been hatched in the wild in Britain for the first time in 600 years.
Wildlife experts watched as the parents incubated the clutch of five eggs in an oak tree.
The nest is one of three at the Knepp Estate in West Sussex.
The adult birds were seen throwing eggshells from the nest and later regurgitating food for the chicks.
It comes after the same pair of white storks unsuccessfully tried to breed at Knepp last year.
Lucy Groves, project officer for the White Stork Project, said it was the first time in hundreds of years that wild white stork chicks have hatched in the UK.
More than 300 birds have been bred in captivity and released at three locations in West Sussex and Surrey.
The new arrivals are at Kneep, a former dairy farm sitting in 3,500 acres allowed to return to nature.
Kneep has been part of a stork reintroduction scheme.
Special sites had been made for the breeding pairs, but they preferred to make their own.
Last years a breeding pair laid three eggs, but they failed to hatch.
This year the birds – which are monogamous – returned and laid again.
If the project is successful it'll be the first wild-born storks since 1416.