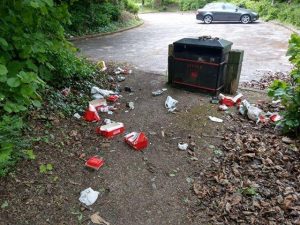 Picture: Antoni Squires
Discarded KFC wrappers and food cartons are being dropped in lay-byes and roads only days after the fast food chain re-opened.
The litterlouts are picking up meals from a drive-thru and throwing their rubbish from cars within minutes.
The quick return to "old habits" has disappointed residents along the Fosse Way in Newark, Nottinghamshire.
One said: "I'd have thought people might have learnt something from lockdown – a chance to respect the countryside and environment.
"But no. It's disappointing to say the least".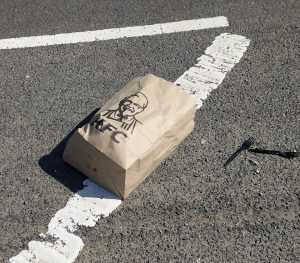 Fosse Road, Newark
Similar behaviour has also been seen in other parts of the UK.
The re-opening of a KFC at Ashton, Lancashire, has caused a surge in tossed away wrappers.
Resident Antoni Squires: "The KFC packaging is all over the area.
"People park in the cinema car park and dump their rubbish there too.
"Some are just inches from a bin.
"It's disgusting.
"The Covid lockdown has had such a positive environmental impact, but as we start to see restrictions lifted, and people emerge from their homes, it appears the environmental gains are soon being lost.
"If this is how it is going be coming out of it, then we have learned nothing.
"We are wasting a golden opportunity to change our ways for the better, forever.
"Sadly, it appears there is a selfish element of society that think a greasy takeaway fix is so much more important than looking after the environment.
"They believe that simply throwing their rubbish on the ground is acceptable.
"It is not."