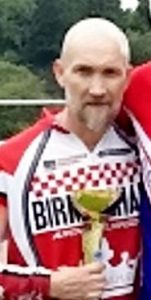 Picture: DWP
Speedway ace Stephen Hodgkinson claimed £90,000 in benefits over 17 years after saying he was confined to a wheelchair.
But investigators found he was speedway racing, running, going to the gym, and taking part in indoor cycle classes.
Hodgkinson, 58, said he needed round-the-clock care and could only walk with aid.
A court heard how he said his condition left him so weak that some days he barely coped with eating and dressing.
But Department of Work and Pension (DWP) investigators discovered it was all a sham.
They found Hodgkinson was racing for the Birmingham Monarchs cycle speedway club.
And he'd posted pictures on social media of himself holding trophies.
Hodgkinson, of Smethwick, West Midlands, pleaded guilty at Wolverhampton Crown Court to falsely obtaining benefits
He was jailed for 18 months, suspended for two years, and given 200 hours' community work.
Judge Martin Jackson said:
"Your initial claim for Disability Living Allowance was a legitimate one.
"But over a significant period of time you failed to notify the DWP in changes to your circumstances and painted a picture one can only describe as extreme helplessness.
"You failed to tell the DWP that you were in significantly better condition than when your claim started.
"By your plea you accept you were dishonest in your failure to notify them."