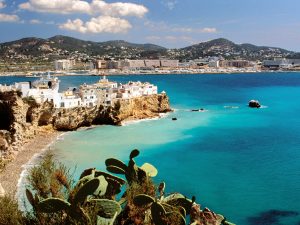 Ibiza, Spain
That's it – "summer is cancelled" with virtually "no chance" of foreign holidays, warns Health Secretary Matt Hancock.
When asked on ITV's This Morning if sunny breaks were off the agenda Mr Hancock replied:
"I think that's likely to be the case.
"We haven't made a final decision on that yet but we will seek to reopen hospitality, some hospitality, from early July if we keep successfully reducing the spread of this virus.
"But social distancing of some kind is going to continue.
"The conclusion from that is it is unlikely that big, lavish international holidays are going to be possible for this summer.
"I just think that's a reality of life."
Mr Hancock's straight talking will be a blow to many families who saw a summer vacation as some light at the end of the coronavirus tunnel.
However, some glimmer of hope comes as quarantine measures will not apply to movement between France and England.
Prime Minister Boris Johnson and French President Emmanuel Macron have agreed, "so far", the seclusion will not be implemented.
Both countries, in particular France, rely heavily on tourism.
Already French holiday firms are reporting a 40% increase in Internet searches.