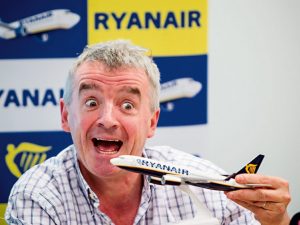 Ryanair hopes to restore 40% of its flight schedule from July 1st.
The optimism is subject to the Government lifting restrictions on flight with the EU.
Also, having "effective public health measures" in place at airports.
Passengers and crew will be asked to wear face masks and pass a temperature check.
The "fly again" plan would see nearly 1,000 daily flights taking off, and 90% of the company's routes back to pre-coronavirus times.
Ryanair group chief executive Michael O'Leary told ITV's Good Morning Britain:
"The reality is, we're over the peak of the virus.
"What we now need is to take effective measures, and effective measures certainly in air travel will involve masks and temperature checks.
"They're not going to involve measures that have no public support like lockdown, isolation.
"They're utterly unimplementable anyway because you don't have the police resources to go and check the people.
"We know from our own customer feedback, there's a huge pent-up desire of families who want to get away to the beaches of Spain and Portugal, where, by the way, there will be no spread of the virus."