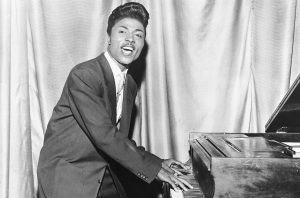 Rock and Roll icon Little Richard has died. He was aged 87.
His son Danny broke the news through the magazine Rolling Stone.
He said the cause of death was unknown.
Little Richard had hits in the late 50s with Good Golly Miss Molly, Tutti Frutti and Long Tall Sally.
Musician Tim Rice today led tributes to the star, writing:
"The genius who gave us A WOP BOP A LOO BOP A LOP BAM BOOM and plenty more is no more.
"RIP The Great Little Richard an indisputably unique entertainer."
Little Richard's exuberant showmanship, shrieks, unique voice and flamboyant dress style made him a pioneer in the fledgling days of Rock and Roll.
Many world-famous groups – including The Beatles and The Rolling Stones – owe a debt of showbiz gratitude to outrageous Richard.
The Stones opened shows for him
Mike Jagger said: "Little Richard drove the whole house into a complete frenzy.
"There is no single phrase to describe his hold on the audience."
Little Richard – real name Richard Wayne Penniman – told BBC Radio 4 in 1998 he was one of 12 children – and wanted attention.
He said: "I was the biggest head of all, and I still have the biggest head.
"I did what I did because I wanted attention.
"When I started banging on the piano and screaming and singing, I got attention."
His father was a preacher who also ran a nightclub.
His mother was a devout Baptist.
Little Richard said in 1970:
"I was born in the slums. My daddy sold whiskey, bootleg whiskey
"My daddy wanted seven boys, and I had spoiled it, because I was gay."