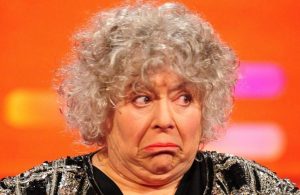 Actress Miriam Margolyes shocked television viewers when she said wanted Boris Johnson to die from coronavirus.
Ms Margolyes, 78, was appearing live on Channel 4's comedy show The Last Leg Locked Down Under.
When asked about the Covid-19 pandemic and the Government's handling of the crisis she launched into a tirade.
She said: "Appallingly, of course, appallingly.
"It's a disgrace, it's a scandal.
"It's a public scandal.
"I had difficulty not wanting Boris Johnson to die. '
"I wanted him to die.
"Then I thought that will reflect badly on me and I don't want to be the sort of person that wants people to die.
"So, then I wanted him to get better, which he did do, he did get better.
"But he didn't get better as a human being. And I really would prefer that.
"So, we're in the s**t, basically, here."
Her forthright comments prompted mixed reaction – some viewers were shocked, and others praised her frankness.
Cambridge educated Ms Margolyes plays Professor Sprout in the Harry Potter films.
She has also won a BAFTA her role in Martin Scorsese's The Age of Innocence.
She is renowned for her frank opinions.
https://www.youtube.com/watch?v=laZFXuKF_tg