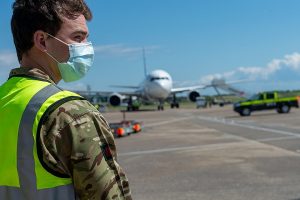 Britain's armed forces have deployed more than 4,000 personnel – with another 16,000 on standby – to help fight the coronavirus pandemic.
And, despite its demanding frontline home role, it continues to fight Daesh terrorists in Iraq, patrol international airspace and waters checking Russian military activity, and work alongside NATO and the UN.
Minister for the Armed Forces, James Heappey said:
"It has been an enormous effort from people across the UK Armed Forces to reconfigure the training activity that simply cannot be stopped without impacting our national security in the months ahead.
"I am grateful to all of them for their hard work and ensuring essential training continues to happen safely.
"There is a great deal of defence activity that will remain paused, which is entirely right, as we will always ensure the safety of our service personnel, their families and the communities that support them."