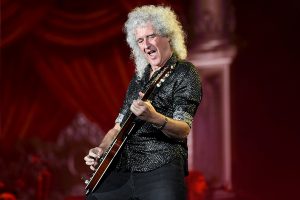 Queen guitarist Brian May has ruled out a sequel to the blockbuster film Bohemian Rhapsody.
Despite the film grossing more than £700 million and winning four Oscars May doubts a follow-up.
Rami Malek won an Academy Award for his portrayal of Freddie Mercury.
May told Rolling Stone magazine: "Don't think we didn't think about it [a sequel].
"We've talked.
"Basically, we think not, at the moment.
"Things could change, I suppose, but I think it would be difficult."
A sequel would look at Mercury's final years as he lived with AIDS.
He died in 1991.
May said: "I don't think that would be an uplifting thing to do.
"I'm not saying it's impossible because there is a great story there, but we don't feel that's the story we want to tell at the moment."
"There's a million things in our career which you couldn't show in a movie since the movie had to be so simplified to make it watchable.
"But we don't really think there's another movie there.
"That's the long and the short of it.
"I don't think a sequel will happen.
"But we have looked at it pretty seriously."