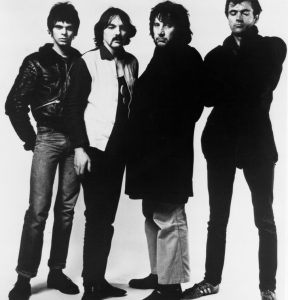 Dave Greenfield, second from left
The Stranglers keyboard player Dave Greenfield has died. He was aged 71.
He had caught coronavirus while in hospital suffering from a heart condition.
Dave was with the band for more than 45 years.
He wrote the music for the group's biggest hit "Golden Brown" with its haunting harpsichord.
"Golden Brown" reached number two in the UK charts in 1982.
The group also had hits with "No More Heroes" and "Peaches".
In a tribute The Stranglers' bass player Jean-Jacques "JJ" Burnel called Greenfield a "musical genius".
He said: "On the evening of Sunday May 3rd, my great friend and longstanding colleague of 45 years, the musical genius that was Dave Greenfield, passed away as one of the victims of the Great Pandemic of 2020.
"All of us in the worldwide Stranglers' family grieve and send our sincerest condolences to Pam [his wife]."
And drummer Jet Black added: "We have just lost a dear friend and music genius, and so has the whole world.
"Dave was a complete natural in music.
"Together, we toured the globe endlessly and it was clear he was adored by millions.
"A huge talent, a great loss, he is dearly missed."
The band's manager Sil Willcox said:
"We are all in shock, Dave was a kind, generous soul who had time for anyone and everyone and it has been my privilege to have known him as both a close friend and his manager for over 40 years.
"Our thoughts are with his wife Pam at this sad time."
The group's original frontman Hugh Cornwell left in 1990.
He posted on Twitter he was "very sorry" to hear of Dave's death.
He wrote: "He was the difference between The Stranglers and every other punk band.
"His musical skill and gentle nature gave an interesting twist to the band.
"He should be remembered as the man who gave the world the music of Golden Brown."
Golden Brown TOTP 1982