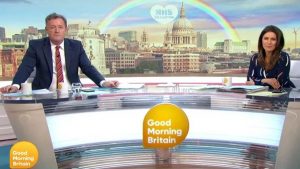 Good Morning Britain presenter Piers Morgan has stepped down from the show after testing for coronavirus.
The controversial frontman has said it's a temporary move while he awaits test results.
The ITV programme will be presented by co-star Susanna Reid and Ben Shephard standing in.
Morgan, 55, tweeted: "On medical advice, and out of an abundance of caution for a mild symptom that arose in the past 48 hours, I've had a test for Covid-19 and so won't be working on Good Morning Britain until I get the result back, which should be tomorrow."
Last week Morgan was cleared by television watchdog Ofcom of breaching its rules.
More than 3,000 complaints were made about the presenter over his "combative" questioning of care minister Helen Whatley.
During a "lively" interview, he asked Ms Whatley how many health workers and care workers who had died from the illness.
She accused him of "shouting at me and not giving me a chance to answer your questions" and "attempting to score points".