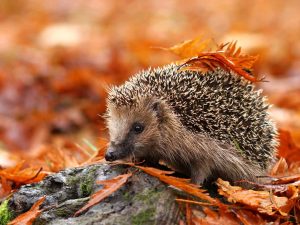 The plight of Britain's hedgehogs is being highlighted during Hedgehog Awareness Week.
The yearly campaign is to make people more aware – and hedgehog friendly – of one of Britain's most endearing wild animals.
It's thought the UK's hedgehog population has dropped from 30 million fifty years ago to a mere one million today.
Janet Peto, who runs Hedgehog Welfare, said:
"The hedgehog has been under a lot of pressure to survive over the last few decades.
"We must do all we can to maintain and increase the current population.
"Hopefully, the marked decrease in traffic through lockdown will give hedgehogs a chance to breed well this season.
"But, by following a few simple rules we can all do our bit."
It's suggested to help hedgehogs people should:
Move piles of rubbish to a new site before burning it.
Check areas carefully before mowing or strimming.
Ensure netting is at a safe height.
Check compost heaps before digging the fork in.
Stop or reduce the amount of pesticides and poisons used.
Cover drains or deep holes.
Ensure there is an easy route out of ponds & pools.
Create a log pile that will offer shelter and food.
Janet said: "It's also going to be financially tough this year for hedgehog sanctuaries as it is for all charities.
"We rely on summer fetes and village hall events to raise money – and they have all been cancelled."
Janet and her team of helpers nurse injured and ill hedgehogs back to health before releasing them into wild.
Last year the group returned more than 300 hedgehogs to their natural habitat
She said: "We've already had a busy start since hedgehogs awoke from hibernation.
"A lack of rain has made it hard for them to find enough food to bulk up after a long sleep."
Janet said it would help if people could leave out kitten biscuits and fresh water – preferably rain water.
Since April, Hedgehog Welfare has taken in a dozen hedgehogs for care and hopeful release.
Hedgehog Awareness Week runs from May 3rd to May 9th.