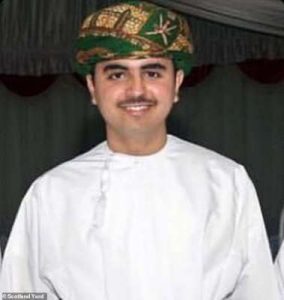 Victim Mohamed Abdullah Al Araimi
A man has denied stabbing an Omani student to death for his Rolex watch.
Mohamed Abdullah Al Araimi, 20, died outside Harrods in Knightsbridge, London.
He was walking home with his friend Nasser Kanoo after going out for a meal.
Badir Rahim Alnazi, 23, is accused of attacking Mr Araimi on December 5th last year.
Mr Al Araimi, a King's College politics and economics student, was pronounced dead at the scene.
His brother Salem Abdullah Al Araimi said in a family statement:
"Our hearts are eternally broken."
It is claimed, the defendant, a Kuwaiti national, had tried to snatch watches worth £41,610 belonging to Mr Al Araimi and Mr Kanoo.
Alnazi, of Beaconsfield Road, Brent, north-west London, appeared before the Old Bailey for a plea hearing.
He spoke to confirm his name via video link from custody and entered not guilty pleas to four charges.
He was remanded in custody and will appear for trial on July 6th.