Lloyds Q1 profits down 95% as Covid-19 wrecks global economies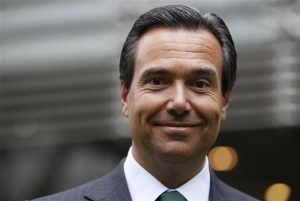 Lloyds CEO António Horta-Osório
Lloyds banking has seen a 95% drop in its first quarter profit as coronavirus hits global economies.
A £74 million profit from January to March were down from £1.6 billion in the same period a year ago.
The bank has set aside £1.43 billion to cover the expected slump following the Covid-19 pandemic.
Working on a "severe downside" worst case, the group sees the economy shrinking by as much as 7.8% this year.
Lloyds chief executive Antonio Horta-Osorio said:
"The economic outlook is clearly challenging and uncertain with the longer-term outcome dependent on the severity and length of the coronavirus pandemic and the mitigating impact of government and other measures in the UK and across the world."